Manufacturing of stone carved elements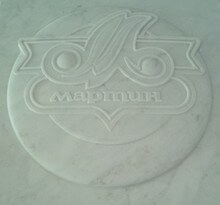 You can order the production of carved elements from natural stone in the StoneLife company. Our master stonecutters create graceful items to decorate the interior and exterior of any complexity: paintings, murals, statues, facade decorations, bowls, vases and many other things – they perform work on their own sketches and drawings of customers.
Stone Carving is a craft, known to people since ancient times. The unique images embodied in marble, granite, onyx, sandstone and other rocks, were been creating by skilled craftsmen for thousands of years, and modern manufacturing industry has allowed to raise the production of carved stone elements to unprecedented aesthetic heights.
Experts of StoneLife plant in Uralsk city work on high-precision European equipment. With samples of materials you can get acquainted by using our directory where are a lot of textures and colors of natural stone. Carved products will be luxurious additions of private homes or public buildings, the holiday home or greenhouse. We offer an original solution to business organizations - the creation of branding elements that emphasize the individuality of your business. All orders are carried out in the shortest possible time taking into account the smallest wishes of the customers