Manufacturing of stairs made of natural stone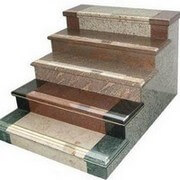 To order the steps of stone for stairs contact the StoneLife production company (Uralsk city). We are ready to design the stair components and manufacture them on our plant site in the short term - to create beautiful, reliable and durable products made of marble, onyx, granite.
You can order us to manufacture flexible stone stairs, which will be mounted indoors or outdoors. In the latter case, employees of the plant will pick up particularly hard stone that will withstand large temperature changes, frost, heat and other weather testing. We use natural high-strength materials that allow for the installation of structures in areas with high pedestrian congestion: in shopping centers, at the inputs to the shops, in various institutions.
Stairs made of stone are not only reliable and safe - they are amazingly beautiful, always look luxurious, so will be the elite complement of home decor! For you, we are happy to produce the basic elements for marching and spiral staircases, including for the nonstandard and combined structures.
To order and buy marble, granite, and others stairs contact the StoneLife company's managers.