Fireplaces made of stone, facades for fireplaces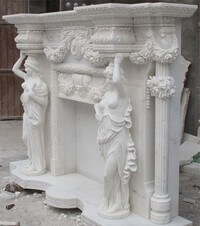 Stone fireplaces warmed the homes of people for thousands of years, because the first in the history mankind hearths were built of stone. Despite the fact that today gas heating systems operate in many private homes, nothing replaces comfort created by living "tamed" fire, flickering in the living room.
The StoneLife production company (Uralsk city) is engaged in manufacturing of stone facades of all types of stone: granite, onyx, marble, and others. The variety of colors and textures of raw materials allows to pick up the perfect option for any interior. You can choose fireplace from ready-made samples or order an exclusive that most closely matches the place of future installation. Our experts will realize in the product all your wishes.
Fireplace with stone facing is an elite and beautiful addition to the atmosphere, but this is not only its advantage. Natural stone warms up quickly and retains heat for a long time, it is 100% environmentally friendly, but also incredibly durable – it will serve the owners for decades without losing primeval look.