Manufacture of window sills made of natural stone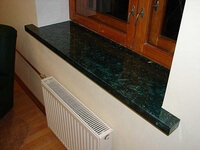 To order the production of the stone window sill, contact the StoneLife production company (Uralsk city). Our specialists are ready to perform the products according to customized drawings of any shape, exactly in accordance with the dimensions of your window openings; there are many shades of granite, onyx, marble stones on the choice of customers there.
Window sills made of natural stone give the interior a unique, luxurious look. Recently, such designs are set not only in private homes, cottages and city apartments, but also in hotel complexes, spas, shopping centers and cafes. Beautiful, extremely durable, resistant to moisture, mechanical loads and temperature changes, they are used by owners virtually forever!
We recommend to order window sills made of marble, granite or onyx for those who pays great attention to environmental standards when creating a home environment. Despite the variety of artificial materials, that are been offered by modern construction market, it is hard to find a better alternative to stone. Window sills made by StoneLife will be an elegant addition to the interior of your home.